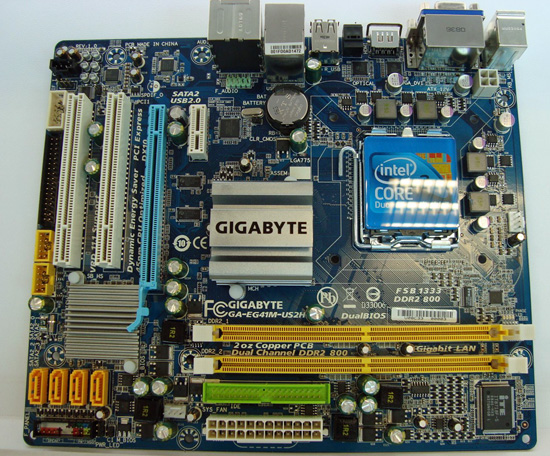 Gigabyte had a slew of new product introductions at Computex this year. In fact, the sheer number of new or revised products on display was a bit dizzying at times. While we love seeing new product introductions, the most important aspect of Gigabyte's impressive wall of boards is the number of current products being revised or updated. This shows us that not only is Gigabyte serious about continual improvement, but the fact they are confident enough in the market turning around shortly to make the investment in these upgrades. Of course, the downside is that our wallets end up lighter but hey that is what makes the world go around today.








The first platform from Gigabyte to receive a refresh is the X58 series of motherboards. From the Extreme board down to the lower mid-range UD4 series, Gigabyte is planning a complete update to this product line in the coming weeks. The GA-EX58A-Extreme and GA-EX58A-UD5 is sporting Gigabyte's new 24-phase power delivery system. We are still skeptical about the benefits of phase counts over 12 (especially good ones) on this platform, but the engineers made a compelling case for improved overclocking and stability when running high Bclk rates on this platform. Regardless, other features such as the new DES2 technology, four Marvell 6Gb/s SATA ports, dual LAN with auto-switching ports, and improved memory performance is what caught our eye and will be of greater value to the users.
The GA-EX58A-UD4 appears to be a very solid design and is a board we cannot wait to test. It also features the Marvell 6Gb/s SATA controller but with two ports, the new smart dual LAN auto-switching technology, DES2, a robust 12-phase power delivery system, and Gigabyte's new Smart 6 Technology package. The Smart 6 package consists of Smart Recovery (similar to Windows roll-back points but smarter), Smart Recorder (logging security system), Smart Time Lock (set variable PC usage periods for a shared system), Smart QuickBoost (auto overclocking gates), Smart DualBIOS (password and date manager, yes, BIOS wording does not make sense), and Smart QuickBoot.
Out of all of these it was Smart QuickBoot that caught our attention. This program consists of two features, BIOS QuickBoot and OS QuickBoot. BIOS Quick Boot allows your system fast track past the normal BIOS routine if changes to the BIOS have not been made after three successful boots. This will typically save 10 seconds or more off a typical POST process. The OS QuickBoot forces the system to go into a modified S3 routine upon OS shutdown and enables a quick resume feature, similar to ASRock's Instant Boot technology.


Another product line receiving a substantial makeover is the Intel G41/G45 based motherboards. Intel is starting to push the revised G41 products in the lower end uATX market as a viable competitor to AMD's excellent 780G and upcoming 785G product lineups. We think the 785G is going to be the chipset to have in the budget uATX sector and its feature set is significantly more advanced than the G41, especially when it comes to video and storage performance. However, for those users who are loyal to Intel, they finally have a very good alternative in this market sector besides the anemic 945G.
Gigabyte is launching several different G41 product updates with the GA-EG41M-US2H being at top of their G41 product offerings. It features DES power savings technology, Ultra Durable 3 Classic hardware technology, dual channel DDR2-800 memory support, Intel GMA X4500 integrated graphics with HDMI output, Gigabit LAN, and an 8-channel HD audio codec. The only drawback is the ICH7 with four SATA ports, although this should be plenty for the SOHO crowd, we would have preferred the ICH10.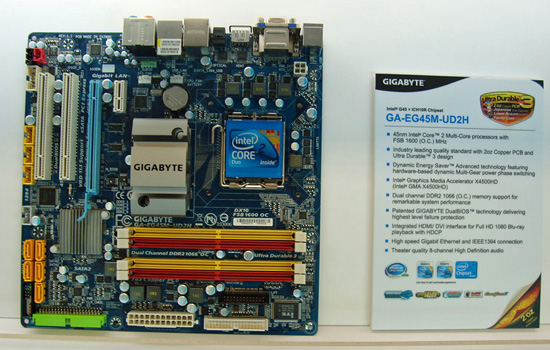 Also launching is the GA-EG45M-UD2H board based on the G45 chipset. The primary difference between this board and the G41 US2H is the GMA X4500HD graphics capability that features full hardware acceleration for H.264 titles and support for 1600FSB and DDR2-1066. We understand that Intel is considering (rumor alert) moving the GMA X4500HD playback capabilities into a revised G41 chipset next year when H55 ships. In the meantime, a decent processor like the E6300 can handle H.264 playback just fine on the G41 chipset.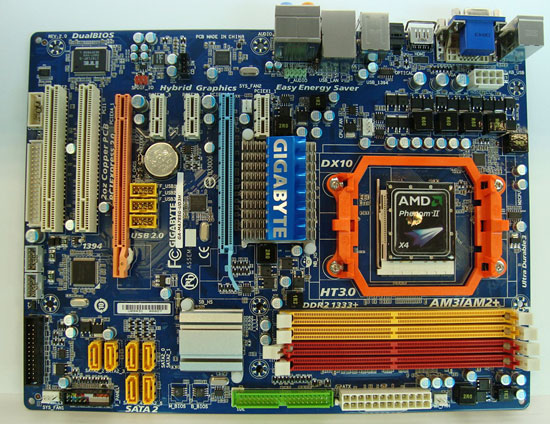 We covered the 785G specifications in detail. As an update, we understand that AMD has BD picture in picture working now and it might be a shipping feature, with heavy emphasis on it might be a shipping feature. Gigabyte will also be one of the launch day partners with AMD when the 785G ships in the coming months (hearing September/October). Gigabyte is planning to have several 785G variants ready in both uATX and ATX form factors. The one we are looking forward to is the uATX based GA-MA785GPM-UD2H featuring the HD 4200 IG, dual channel DDR2-1200 support, 128MB DDR3 Side Port memory, ALC 889a 8-channel HD audio with Dolby Home Theater, HDIM output, and the SB710 Southbridge.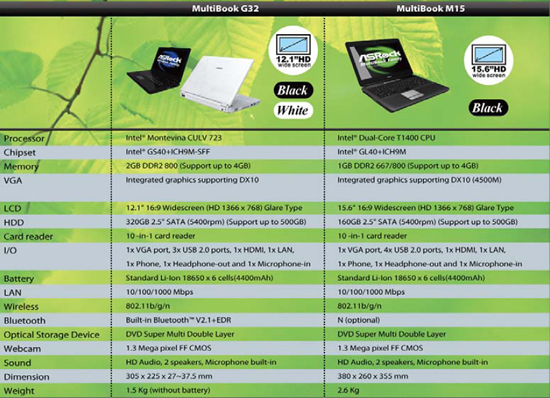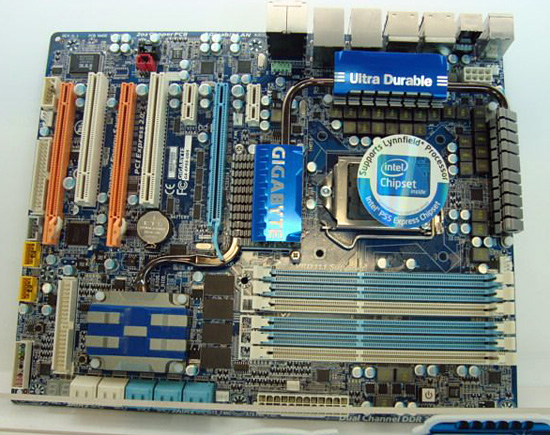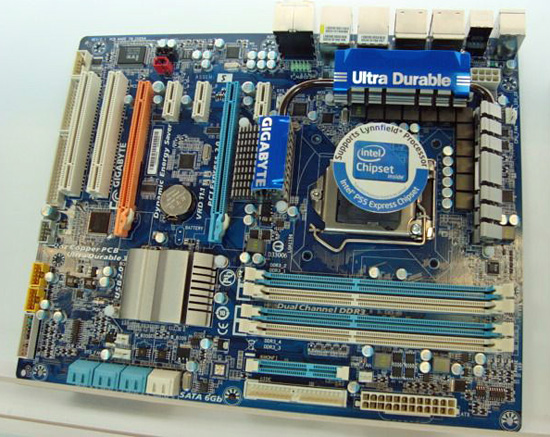 Last, but not least, is the upcoming P55 product. Gigabyte plans to be very aggressive in this particular market with several products covering the entry level (GA-EP55-UD3R) and mid-range (GA-EP55-UD4P) user, to the enthusiast (GA-EP55-UD5). They had several boards displayed that met each particular market segment and this time we gravitated to the entry level GA-EP55-UD3R pictured right above. The UD3R features two PCIe 2.0 x16 slots (x8/x8 CF/SLI), three PCIe x1 slots, two PCI slots, dual Gigabit LAN with auto-switching, eSATA, two port Marvell 6Gb/s SATA, and Gigabyte's Ultra Durable 3 technology. We think this board and the GA-EP55-UD3P will hit the sweet spot in the P55 market just as their GA-EP45-UD3P did in the S775 market.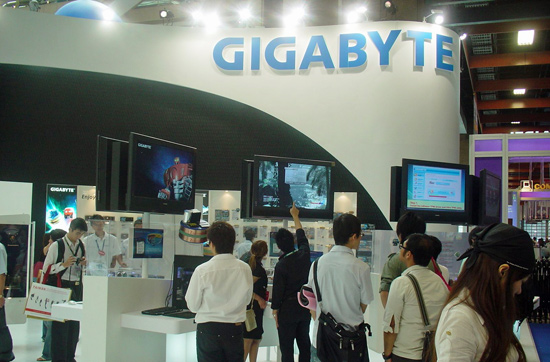 From initial indications, it appears Gigabyte has one of the stronger product lineups scheduled for this summer and fall. While we concentrated on motherboards, Gigabyte also displayed a wide variety of Netbooks, Ultra Thin Notebooks, PC cases, power supplies, input devices, and video cards.